When Ads Meet Art
Not really new, but still deserving a post…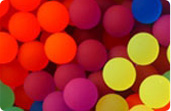 If you haven't had the chance to see
Sony BRAVIA's ad
yet, you can and should. It's fresh, quiet, just beautiful; the idea is very simple, while challenging, it takes place in a splendid city, and the music—a cover of
Heartbeats
, from José González—plays a huge part as well.
To highlight this ad, they've created a clean website—without too much re their corresponding products—, where you'll also find a making of and a bunch of other stuff (like desktop pictures, screen savers, etc.) Moreover, it's featuring MPEG-4 Part 10 (a.k.a. H.264) materials—requiring Apple QuickTime 7—, which means quality. Good job!
Udpate:
And for those who have access to broadband, an extended version is available
here
. Enjoy!